In this episode, Dr. Clark continues his series on the the Canons of Dort where we are looking at the Third and Fourth Heads of Doctrine of the Canons of Dort on the application of redemption to the elect by the Holy Spirit. Three great errors about regeneration theology appear throughout history. In respect to this, Dr. Clark focuses in on the credal and confessional history of doctrines concerning new life in the Spirit, through grace and faith alone (sola fide, sola gratia). Grace is God's sovereign, unmerited favor given to those who do not deserve it—it is unassisted, unearned, and works alone. He also answers questions from Caleb in Madison, Indiana, who asked for clarification on the differences, doctrinal and sacramental, between Lutherans and the Federal Visionists. George asks about Wayne Grudem's Systematic Theology, and Kevin inquired about resources responding to Zionism. The opening audio clip is from our friends at the Presbycast.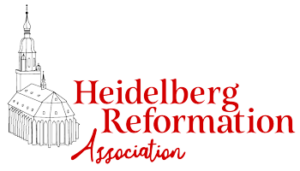 The Heidelcast is proud to be sponsored by The Heidelberg Reformation Association. The purpose of the Heidelberg Reformation Association is to promote Reformed theology, piety, and practice as summarized in the Heidelberg Catechism, and related ecclesiastical confessions e.g., the Belgic Confession, the Canons of Dort, and the Westminster Standards, i.e., the Westminster Confession Shorter Catechism, and the Larger Catechism. You can support the HRA by using the donate link on this page or on the HRA page. If you benefit from the work of the HRA please consider supporting us so the articles, reviews, podcasts, and even the comic strip will continue.
On Twitter @Heidelcast
How To Support Heidelmedia: use the donate button below
Subscribe directly via RSS
Text the Heidelcast any time at (760) 618–1563.
Ways To Listen to the Heidelcast:
Call the Heidelphone anytime at (760) 618–1563. Leave a message or email us us a voice memo from your phone and we may use it in a future podcast. Record it and email it to Heidelcast at heidelcast dot net.
If you benefit from the Heidelcast please leave a five-star review on Apple Podcasts so that others can find it.
Please do not forget to make the coffer clink (see the donate button below).
© R. Scott Clark. All Rights Reserved.
Show Notes