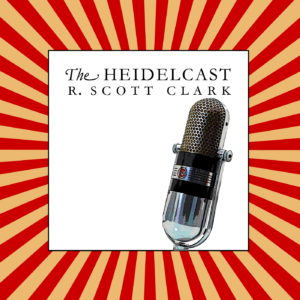 Things are so topsy-turvy right now it seemed like a good time to do another call-in episode, and, as always we have some great calls. I will announce the most interesting caller and the winner of the book. The Heidelcast are a smart bunch of listeners and they ask good question and this batch of questions is no different, so it was not easy to pick one. We had calls on the authority and role of the confessions relative to the Scriptures, on what Scripture means by "high places" (what we we should learn from it), on the challenges inherent in streaming services and how we can supplement our temporarily on-line relationship with the rest of our brothers and sisters, on God's relations to evil, and on how to sort our loyalties when the civil magistrate is telling us one thing and our elders are telling us something else. Our winner will receive in the mail a copy of Caspar Olevian, Firm Foundation, which is essentially of his commentary on the Heidelberg Catechism. If you called but did not win you can find an electronic copy via Logos.
Call the Heidelphone anytime at (760) 618-1563. Leave a message and we may use it in a future broadcast. Give us a call. We will do another call-in show and give away another book in April. Light up that phone line.
If you benefit from the Heidelcast please leave a five-star review on Apple Podcasts so that others can find it.
Don't forget to make the coffer clink.
Resources