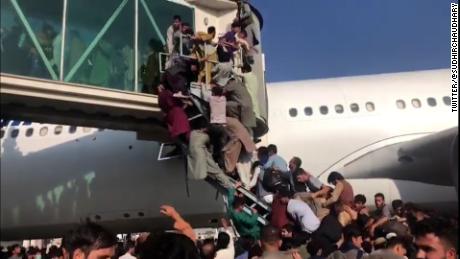 The disastrous American withdrawal from Afghanistan has created a multifaceted crisis. A savage regime has retaken control of Afghanistan and bodies of innocent civilians and American allies are already strewn across the streets. This is the Taliban is showing a modicum of restraint as they wait for the world's television cameras to lose interest and they can begin executing their reprisals in earnest. Doubtless they are quaking in their new boots (courtesy of the Afghan National Army and the US taxpayer) at the finger wagging coming from the US State Department. Most Americans seem to want America out of Afghanistan but few Americans want what has transpired over the last few days across Afghanistan. Only a ghoul could delight in what has happened at Hamid Karzai Airport in Kabul. I am experienced enough to have voted in 1980 and I remember well the Carter Administration's failed attempt to rescue the hostages from the American embassy in Tehran. The Carter Administration is being made to look like seasoned professionals in comparison to the Biden Administration. My point, however, is not to point fingers or to score points but to use this episode as an opportunity to think about the nature of life in what Calvin called a "twofold kingdom."
Principles And Policy Over Personalities
Christians live in a twofold kingdom, i.e., under God's sovereign administration of all things. There are two spheres in the kingdom, the sacred and the secular (or the saving and the general). Our life in the sacred sphere, in the visible church, as citizens of the Kingdom of God, of is governed specifically by God's special revelation. Our life in the common or secular sphere is governed by the general principles of the Word and by general, natural revelation, which Calvin and Reformers called the natural law.
Americans tend not to pay attention to politics. Indeed, until the modern age of mass media and before the expansion of the Federal under FDR Administrations, it was quite possible for most Americans safely to ignore the federal government and go about life as if politics were irrelevant. With industrialization and the rise of a much larger, more intrusive federal government, the development of larger and more intrusive state and local governments, and with the growth of the permanent bureaucratic state a legislative body (e.g., Congress, the state legislature, or a city council) passes a vague law empowering bureaucrats to write rules that have the force of law and to enforce the law, it has become increasingly difficult to avoid politics and government. In short, you can run but you cannot hide.
These changes in American life mean that, apart from those who live "off the grid," most of us are compelled to deal with the government whether it be school boards imposing critical theory, the LGBTQ indoctrination of Kindergartners, or potential vaccine mandates from state and local governments. The question is not whether Christians must navigate our brave new world but how.
Recently a prominent Baptist theologian wrote that American Christians turn to Fox News to learn what their pastors will not give them, a Christian worldview. Our Baptist friend probably thinks that a "worldview" will do more than it does and his supposition about why people watch the news networks they do may or may not be true but it is true that Christians need to learn to interpret the significance of reality in a Christian way. There is such a thing as a Christian worldview but they also need wisdom, which is a neglected category among evangelicals.
One thing our Baptist friend did not tell us is that we do not have news media any more. We do have media corporations. Their job is to inflame more than to inform. Their chief function is to generate revenue and to keep the stock price up. Our media corporations are driven by ratings and clicks and they do not care how they get there. This pattern began more than sixty years ago. The advent of television dramatically changed American politics. The internet is television on steroids and with a comment box. Television is an inherently emotive medium. It does not inform as much as move our feelings. That is even more true of internet-based media.
One way to get eyeballs, ears, and clicks is to focus on personalties rather than on policies. Thus, the media corporations turn political races into horse races and polls for decades have told us that Americans tend to decide how to vote not on the basis of policies and platforms (i.e., proposed plans and outcomes of government action) but on the basis of personalities. Americans vote for people they like and they do not much care about the platforms and policies represented by a candidate. Worse, far too many Americans tend to vote candidates on the basis of sex appeal or hairstyle. I remember when our current president had much less hair than he has now. Why is his hair better today than it was forty years ago? His advisors knew that Americans are more likely to vote for a candidate with good hair.
Wisdom, however, would have Christians focus on policies rather than personalities. To do so means asking certain questions, e.g.,
What is the nature of government and liberty?
How should government understand and apply the constitution?
What are the limits of government?
What does this candidate think is the function of government?
What experience does a candidate bring to the job?
What do we know about a candidate's character?
What plan of action is a candidate proposing and on what basis?
Electing a candidate on the basis of principles and policy is more difficult than electing candidates on the basis of their eye color or hair style but life in the twofold kingdom seems to require it. Christians as a de facto religious minority in an increasingly hostile culture have a significant incentive to pay attention to principles and policies rather than to personalties since their liberty to practice their faith seven days a week is at stake.
Perspective And Patience Over Panic
Have you noticed that every story, however mundane, is now "Breaking News!"? Have you noticed that we seem now to lurch from crisis to crisis? Our media corporations have a short-term financial interest in creating panics. Human beings are wired with a fight or flight response to danger. If the media corporations can manipulate our fight or flight response they can draw more eyes, ears, and clicks. In turn, politicians have learned that the best way to get what they want is not to make a reasoned argument from law and logic in a legislature but to stimulate fear, anger, and outrage. The media corporations would have us think that hurricanes in the late summer were hitherto unknown and that the world is either going to freeze (1976) or burn (2006) or something terrible is happening. I know this to be the case because the rule in every newsroom in which I worked was simple: if it bleeds it leads. This means that if a story came across the wire the had some action, some excitement, and preferably blood, that was to be the lead story of the next newscast. We left it to tax-funded public radio to lead with boring policy issues. We had to generate ratings. We were responsible to stockholders.
Our media corporations work to diminish our perspective and to heighten our panic. Fear sells. Every media operation has a sales team and those sales people promise to clients that their company can move clients to their business. This means that, in a sense, the news does not really exist. All corporate media is really just stimulation of our fight or flight response to generate revenue. That there is occasional bit of serious journalism is more or less accidental.
Panic creates movement. During the riots last year people reasonably took steps to protect themselves since, in some cities, the authorities essentially gave up protecting the public. That created a run on firearms and ammunition. When Covid broke out panic ensued and store shelves were stripped bear. Politicians see this behavior. They know that they too are a product that must be sold to the public. The allure of panic to get what they want (a job) is irresistible but resist it we must.
Christians, as much as we must navigate daily life, have access to a perspective to which our pagan neighbors lack: perspective. The Triune God is sovereign over all things. He spoke creation into existence and Christ is coming agin to judge the quick and dead. This life is important and it is to be lived to the glory of God and the welfare of our neighbor but this life is not all there is. Our culture tells us to be wise as doves and as harmless as serpents. Christians, however, should be wise as serpents and harmless as doves (Matt 10:16). How are serpents wise? Around here, on the edge of the desert, the rattlesnakes keep a low profile. They generally do not bother us if we do not bother them. Their first instinct upon contact with people is to flee. They usually only strike when cornered. Doves, of course, could not be more harmless.
In the secular sphere of God's twofold kingdom Christians must seek wisdom and harmlessness. The secular sphere is important but it is not ultimate. The sacred sphere is eternal and love of neighbor means that our highest aspiration is that our neighbors should turn to Christ and enter the Kingdom of Heaven. This is not an either/or but a both/and proposition. This is the benefit of thinking about our life in God's twofold kingdom. We have responsibilities in both but there is a hierarchy. We are not just passing through but this life is not final. In light of that perspective we may be "patient in adversity, thankful in prosperity, and for what is future have good confidence in our faithful God and Father, that no creature shall separate us from his love since all creatures are so in his hand that without his will they cannot as much as move" (Heidelberg Catechism 28).
May God grant us the patience to discern principles, policies, and perspective and the wisdom to know the difference between hype and hope.
©R. Scott Clark. All Rights Reserved.
RESOURCES