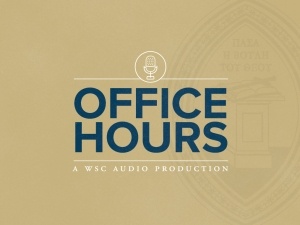 Ours is not an age characterized by wisdom either inside or outside the church. Conferences on wisdom will not likely pack a football stadium (at least not a large one) but wisdom is a major theme in Scripture—terms for wisdom  occur more than 200 times in the Bible—and it was the theme for season 6 of Office Hours: "To Know Wisdom." Few things are as needed today, both inside and outside the church, as wisdom. The nuclear and extended family seems to have collapsed even as it being re-defined in ways that defy nature and the God who ordered it. Popular preachers are celebrated, not for preaching Christ crucified but for facilitating greater "health and wealth." The blind are leading the blind. In this season we heard from W. Robert Godfrey, David VanDrunen, Mike Horton, Steve Baugh, Josh Van Ee, Charles Telfer, John Fesko, Bryan Estelle, Joel Kim, Dennis Johnson, and Julius Kim.
The faculty also gave a series of chapel messages on wisdom. These have been collected and published as an e-book, The Treasury of God's Wisdom. This volume features essays by Dennis Johnson, Steve Baugh, John Fesko, Mike Horton, Joshua Van Ee, Joel Kim,  Charles Telfer, Bryan Estelle, Zach Keele, W. Robert Godfrey, and yours truly.
Subscribe to Office Hours in Apple Podcasts or in any app here. You can also listen to Office Hours via the WSC Media mobile application for iPhone and Android.
Thanks for listening!