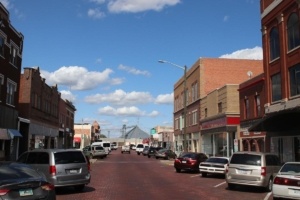 Some dear friends left their life in the city and moved back home a few years ago. They live in his Mom and Dad's place in the Sandhills of Nebraska. North Platte (pop. 23,000), a hour to the south, is the nearest town of any size. There are no confessional Presbyterian or Reformed congregations for hours. The P&R congregation in Sidney, NE closed when Cabellas fortunes shifted and workers moved. The nearest confessional P&R congregation, in Kearney, NE is 2 hours and 3o minutes away. The confessional P&R congregation in Cheyenne is 3 hours away and the congregation in Rapid City, SD is 4 hours away. In leaving the city and going home they are part of a trend. I do not know how large a trend it will be nor do I know how long it will last. Which mortal knows anything about the future during Covid?
Nevertheless, there are early indications that Americans are leaving urban centers. Some surveys suggest that they are going west and south. New Yorkers are fleeing taxes, snow, and a what seems to be an increasingly repressive Covid regime for Florida. U-Haul confirms that people are leaving New York and San Francisco. Some of the Bay Area exodus is headed to  to less expensive locations in California but U-Haul says that the top locations outside of California are Nevada, Arizona, Oregon, Washington, Colorado, Texas, Utah, Idaho, and New Mexico. According to Andy Kierz the rustbelt states (particularly Illinois) are still losing people. The Pre-Covid trend, in 2019, according to American Van Lines, showed people leaving the high taxes in California, New Jersey, and Illinois (with Minnesota chasing the pack). Where were people going? "Idaho first followed in order by Arizona, South Carolina, Tennessee, and North Carolina."
Some influential voices are also speaking up publicly about leaving the big city and going home. In March, 2019, a year before Covid, Michelle Anderson published an essay in the New York Times about moving home to Fergus Falls, MN. Two years before her, however, in March, 2017, J. D. Vance wrote in the NYT about his family's exodus out of Silicon Valley and back to Columbus, Ohio. He describes not only his own journey but that of others. There were a flurry of stories about people fleeing the cities this summer, because of Covid. The data seem unclear so far.
Still, the pre-Covid interest in going home says something. P&R church planters, planners, and power-brokers ought to re-think their single-minded zeal "for the city." Christ has his elect all over and yes, the P&R churches have a legitimate interest in establishing missions in cities. It is not as if Los Angeles is overburdened with P&R congregations.  We have a big job to do in announcing the gospel everywhere and to everyone. This is not a plea to avert our eyes from the cities.
It is a plea, however, to remember those places from which many of the city dwellers fled. Many of those places are underserved or served not at all by P&R congregations. Perhaps the focus on the city was necessary since there might have been a perceived bias in the P&R world against cities. I do not know but I do think that the pressure, in some quarters, to plant and "succeed" in two years puts church planting projects in rural and semi-rural areas at a considerable disadvantage.
It seems obvious that, to plant churches in the Plains, that vast stretch of land from Canada to Mexico and between the Rockies and the Mississippi River, will take more time and proportionally more investment. The return on investment will be lower. It will not be sexy nor will there be thrilling reports. The church planters will not even be able to position themselves as culture shapers or influential figures as church planters in NYC, Boston, DC, Miami, Dallas, or LA might be able to do. In fact, planting confessionally faithful P&R churches on the Plains is just hard, slow work. In the neighborhood of our congregation in Kansas City, if you had not lived there for 20 years, you were a newcomer. There are whole towns that are predominantly one religion or another. Some towns in Nebraska are predominantly Lutheran. Others are predominantly Methodist and others are predominantly Roman Catholic. A few towns on the Plains have a Reformed heritage and there are a very few where the Reformed Church (or churches) are the churches in town (e.g., Sioux Center, IA; Sutton, NE) but those towns are by far the exception. In most towns folks have never heard of the Reformed Church and the only Presbyterians they know are from the PCUSA congregation with the nice lady minister, where they celebrate Gay Pride Day. Most of the Presbyterian congregations have just closed or merged with the local "community church" or the local Methodist congregation.
Still, Christ has his elect on the Plains and in the Midwest (the Rust Belt). Yes, there are congregations in those places but is the gospel of free acceptance with God, in Christ alone, preached? Does the Reformed theology, piety, and practice have any inherent value or are P&R churches just another brand? What about those pilgrims who, in the providence of God, must move to Dubuque, IA? What is the strategy for reaching Dubuque or North Platte?
These are questions that deserve prayer and thought and, one hopes, a new attitude and then, perhaps, a new initiative.
©R. Scott Clark
RESOURCES
How to support Heidelmedia: use the donate button below