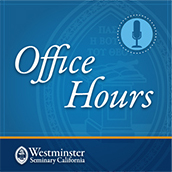 What happens to WSC students after they graduate? Most of them go on to become pastors in confessional Presbyterian and Reformed congregations. Most of them spend the rest of their lives in faithful service to Christ, preaching the gospel, administering the sacraments, making hospital calls, making mission trips, planting new congregations, doing home visitations, and attending meetings of session, presbytery, and synod. The Rev Mr Eric Hausler is a 1989 graduate of Westminster Seminary California and for the last 25 years he's been doing exactly what he prepared to do in seminary: serving congregations in the PCA and the OPC. He's presently pastor of Naples OPC, Naples FL. He's also actively involved in a mission to Haiti. He has served on the Board of Trustees for the seminary and he was on campus earlier this year to give the Annual den Dulk Lectures on pastoral ministry.
Here is the episode.
Here are all the episodes. Subscribe to Office Hours in iTunes.