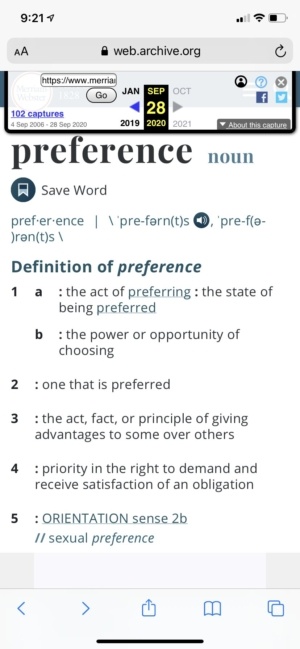 In 2016, Advocate a leading LGBTQ news and commentary magazine published an article in which an author used the phrase "sexual preference" non-ironically and with not hint of shame.
As recently as 19 days ago, this same magazine used the expression in a tweet and in an article that quoted a homosexual film maker saying:
"To come from that history to be able to now, as a director, be telling these stories that aren't even about coming out — that are about young people who are just comfortable with who they are, no matter what their sexual preference is. It's just glorious and so satisfying."
Thus, it would seem as though Judge Amy Coney Barrett, who is presently being queried by the Judiciary Committee of the United States Senate as part of her confirmation to the United States Supreme Court, was well within her rights to use the expression, "sexual preference" yesterday but that did not stop Merriam Webster's Dictionary, as you can see, from revising their entry to make its use a crime against political correctness.
You, Dear Reader, have seen me complaining about revisionism in the definition of words just this week but the speed with which this was done beggars belief. Once again, this business seems to bring into doubt the Baptist appeal to the argument: "the meaning of words change." Indeed, but not in 19 days and not in 3 minutes and not when reasonable people are still using the word or phrase in the accepted sense.
UPDATE
Kevin McGrane has illustrated the Orwellian nature of this gaslighting better than I have.
(HT: Thor Svenson)
© R. Scott Clark 2020. All Rights Reserved.
RESOURCES