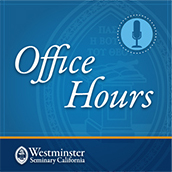 The United States has experienced several great waves of immigration in the 18th, 19th, and 20th centuries. At this writing the United States is experiencing another such wave, this time of Spanish-speaking immigrants. This language-cultural group is noticeably under represented in confessional Reformed and Presbyterian congregations in North America so this current movement of people from Central America (like the earlier movements of people from Mexico) presents a missions opportunity to the Reformed world. Joining me to talk about how the Reformed and Presbyterian churches can respond to this opportunity (and how not to respond) is the Rev. Mr. Chris Sandoval. He's a 2005 graduate of WSC and has been a church planter in Chicago and is currently working in the development department at Westminster Seminary California.
Here is the episode.
Here are all the episodes. Subscribe to Office Hours in iTunes.