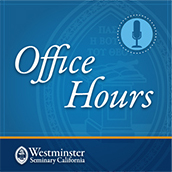 Thanks to David VanDrunen, John Fesko, and Brian Estelle for putting in some Office Hours this week as they sit down to discuss their book, The Law is Not of Faith. In this volume, my above-mentioned colleagues along with Mike Horton, Steve Baugh, and T. David Gordon and others address the question of how confessional Reformed folk should think about the Mosaic covenant (e.g. how does the Mosaic covenant relate to the covenant of grace) and the question of the "republication" of the covenant of works.
You can order this important volume from the Bookstore at Westminster Seminary California for $14.29 + 5.00 shipping.
You can subscribe to Office Hours via RSS (feedburner) or via iTunes.
Here are some resources to introduce you to the historic Reformed doctrine of republication:
The Novelty of Republication…in 1597?
Herman Witsius on Republication
The Marrow of Modern Divinity on Republication
Amandus Polanus on Republication