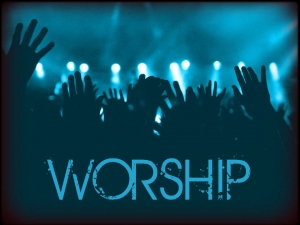 Do you realize that, for people of a certain age, let's say those born since 1980, "Shine, Jesus Shine" (published in 1987) is now a "traditional hymn"? It's about as "traditional" for those generations as revival songs from the early 20th century were when I came to faith. That's the heritage that the contemporary worship movement is leaving to young people. Worse, Mark Galli reports that some evangelical congregations are using sex as a marketing tool. It's so bad that some evangelicals are fleeing the last vestiges of the contemporary chaos for more ancient liturgies.
The worship services of some NAPARC congregations are virtually indistinguishable from the sort of things from which, according to Galli, some evangelicals are fleeing. If so, can we expect a similar exodus out of those Reformed congregations and to what? Let me suggest that the Reformed churches have an alternative to the latest contemporary Christian song and to Eastern Orthodoxy (or whatever). We have a principle, which we've largely forgotten, and that is that we do only in worship what God commands. That's it. We don't have to go looking for serious worship, we confess it. We confess that, in stated services, we come before the face of the same living God who went looking for Adam and who thundered at Sinai and who is glorious atop Mt Zion (Heb 12).
We confess that the same God who redeemed a national people to worship him at Sinai became incarnate and has redeemed a trans-national people that we may worship him, as he has revealed himself, and as he has covenanted with us, at Mt Zion. We confess that Scripture teaches a dialogic pattern of worship. We don't know anything about the revivalist pattern of artificially induced euphoria. We confess that, in godly worship, God speaks to us in his law and in his gospel, and the people respond with God's own (not their own; that would be will worship) Word.
Liturgical? Well, it all depends on definitions. If God speaking and the people responding with God's Word is liturgical, then sure, we have liturgical worship. If ordering worship around God coming to us and our response, by grace alone, through faith alone, in Christ alone, is liturgical, if focus on the gospel in Word and sacrament is liturgical, then yes, we're liturgical.
Dear evangelical friends, I know that you're tired of Wheaton and that you're thinking of moving to Constantinople or Rome or to the Emerging Village, but please visit Geneva or Heidelberg before you move.
Dear Reformed friends, we're not revivalists and we're not Anglican and we're not Pentecostal or Charismatic and we shouldn't try to be. We have resources from which to draw. Yes, Virginia, there is more to worship than "Shine, Jesus Shine." I suggest that we start with Ps 23 and Ps 100.
[This post first appeared on the HB in 2008]