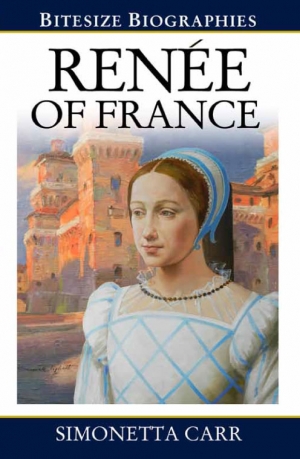 UPDATE January 30, 2013: This volume is now available at Amazon.
It is tempting sometimes to think of the Reformation as a magical event. Luther re-discovered glorious truths and all of Europe swooned. Of course that's not what happened. There was resistance to and resentment of the Reformation. Sometimes people got caught in the middle, like a baserunner in a run-down between first and second. One of those caught between Rome and the [Genevan] Reformation, between her conscience and social pressure, was Renée de France (1510–75).
Simonetta Carr has written a fascinating, well-paced study of the life of Renée that describes her conversion to the evangelical faith, her struggle to hold on to the faith in the face of enormous social and political pressures (including the French Wars of Religion), the role of women in the Reformation, and John Calvin's function as a pastoral advisor. This is not hagiography. It is a historically sensitive account of sixteenth-century life reconstructed from a variety of sources, including correspondence. The circumstantial nature of the evidence leads to speculation in her reconstruction of events but Carr is generally careful not claim too much.
The Reformation did not happen all at once. The story was not tidy. It was messy. That fact should be encouraging, however, rather than discouraging because it means that those through whom Reformation happened in the 16th century were not as different from us as we sometimes imagine. They were flesh and blood human beings who fell and were restored and through whose lives the Reformation may be viewed not as only a political, economic, religious, or theological conflict but as a deeply personal struggle.
The volume is scheduled to appear in February, 2013 through Evangelical Press. This review is based on a pre-publication text. It is intended for mature readers.