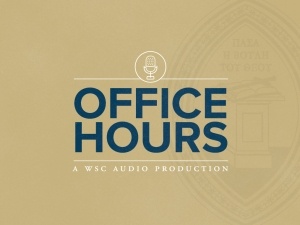 Chuck Tedrick is no stranger to Office Hours. He first appeared on Office Hours in 2009, season 1, episode 3, as a student at Westminster. Then he appeared in season 8, episode 22. Before coming to Westminster he studied at BIOLA University and worked in the automative industry for 20 years. For the last 10 years he has been serving as the pastor of Calvary United Reformed Church, in beautiful Loveland, Colorado. A native of Michigan, Chuck is married to Michelle, who works for White Horse Inn. The big news is that in August Chuck joined the seminary as Dean of Students. His job as Dean is to help foster a vibrant community and spiritual life on campus. If you have not yet met Chuck, you will be glad when you do.
The Office Hours Podcast Since 2009
Subscribe to Office Hours in Apple Podcasts or directly here or in any podcast app.
If you benefit from Office Hours, please take a moment to leave a positive review on Apple Podcasts so that others will find it and benefit too.
Thanks for listening!
RESOURCES