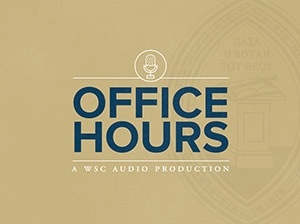 Academic life at Westminster Seminary California does not happen only in the classroom. It happens in prayer, it happens in the chapel, it happens in casual hallway discussions, and when one faculty member walks out of his office and into a colleague's to say, "Hey, what do you think about this?" The original concept behind Office Hours was to give you a glimpse of those sorts of discussions and this episode grew out of just one such discussion. Steve Baugh is Professor of New Testament at Westminster Seminary California. His office is next to mine and one day last Spring we had one of those, "Hey, what do you think?" discussions about Hebrews 12. The specific question we were discussing the meaning of verse 14, "Strive for peace with everyone, and for the holiness without which no one will see the Lord" (ESV). This verse is sometimes understood to mean, "accumulate a sufficient degree of holiness or you will not be saved." Is this what that verse actually says? Steve spent the summer studying the Book of Hebrews and he joined us to consider this and other important questions surrounding Hebrews 12. You might also be interested in Office Hours Season 4, in which the faculty discussed Hebrews from beginning to end.
Here is the episode.
Here are all the Office Hours episodes.
Subscribe to Office Hours in iTunes or in some other podcast app. If you benefit from Office Hours, please take a moment to leave a positive review on iTunes so that others will find it and benefit too.
Thanks for listening!