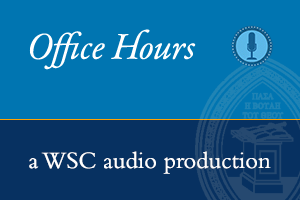 Our Lord Jesus worked miracles but he was also a preacher. He came "preaching the Gospel of God and saying 'The time is fulfilled,' and 'Kingdom of God is at hand, repent and believe the gospel'" (Mark 1:15). People marveled at his power and his wisdom. Our Lord himself said that his wisdom, which was reflected in his preaching, was greater Solomon's. Luke says that Stephen's preaching was so full of the Spirit and wisdom that his opponents could not resist it. In its very nature, preaching is a bold act. A man stands in the pulpit to exposit an ancient text, sometimes extemporaneously, in a late-modern, highly sensitive context. Certainly contemporary preachers are no less in need of wisdom today than were  the apostolic company. Julius Kim joins us to think with us about wisdom in preaching.
Here is the interview.
Here is season 6: To Know Wisdom.
Here are all the Office Hours episodes.
Subscribe to Office Hours in iTunes or in some other podcast app.
Thanks for listening!