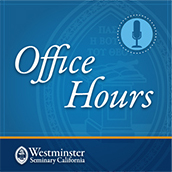 This is season 5 of Office Hours and we're talking about sanctification: New Life In The Shadow Of Death. In this episode, Mike Horton, J. Gresham Machen Professor of Systematic Theology and Apologetics, and I time travel to the  "Lordship Controversy" that raged in evangelical and Reformed circles in the 1980s and early 90s. This controversy is important because it continues to shape the way many think about sanctification. It influences the way they analyze the problems of and solutions to the Lordship of Christ, grace, and obedience. It has become the paradigm that many bring to this issue. Those who would be Reformed, however, might be surprised to learn that, in significant ways, the Reformed confession dissents from both sides of the Lordship controversy. In 1992 Mike published Christ The Lord: The Reformation and Lordship Salvation, which clearly exposed the sub-Reformed roots of both positions in the debate. Christ is Lord and grace is free and if we understand the Reformation we can see how Christ's Lordship and his grace relate biblically.
Here's the latest episode.
Here are all the episodes.
Subscribe to Office Hours in iTunes.
We're taking calls at 760 480 8477. Leave a message and we may use your call in an upcoming broadcast.
If you're not subscribed to Office Hours in iTunes you can subscribe in other ways. The info is all on the Office Hours page.
Go to iTunes and write a short review. This will let others know about the program.
Go to the Office Hours page and click the "like" button.
Follow Westminster Seminary California on Twitter and Facebook.