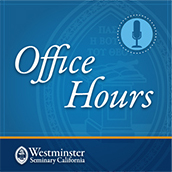 Hebrews 12 is a vital chapter in the book. In it we get a clearer sense of the challenges they faced, the persecution they were experiencing for Christ's sake, and the temptation they had to overcome by God's grace. The pastor invokes three important images and categories for understanding the nature of the Christian life: running, kingdom, and covenant. They might not seem to be related but they are. In this chapter we also see how the pastor to these Christians related the old and new covenants, where he finds continuity and discontinuity. David VanDrunen, is the Robert B. Strimple Professor of Systematic Theology and Christian Ethics at WSC and we sat down to work through this passage together. Take a listen to the latest episode of Office Hours.
Subscribe to Office Hours in iTunes or listen to the episode on the website.
We're taking calls at 760 480 8477. Leave a message and we may use your call in an upcoming broadcast.
If you're not subscribed to Office Hours in iTunes you can subscribe in other ways. The info is all on the Office Hours page.
Hear the most recent episodes here.
Listen to all the episodes here.
Go to iTunes and write a short review. This will let others know about the program.
Go to the Office Hours page and click the "like" button.
Follow Westminster Seminary California on Twitter and Facebook
Thanks for listening!