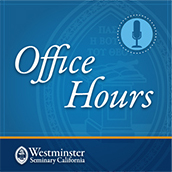 Dennis Johnson brings his expertise in the book of Hebrews back to Office Hours  this week as we work through Hebrews 6:13–7:10. What did God promise Abraham? What does it mean that the pastor to this Christian congregation turned to Abraham to help explain the nature of the new covenant? Who was Melchizedek, why did Abraham, the "father of all who believe" revere him, and why should we care? We tackled these questions and more.
I hope you'll listen and share this episode with others.
If you're just joining the series, here is the introduction. You can find all the episodes in this series at the Office Hours page.
Don't miss an episode. Subscribe to Office Hours in iTunes or listen to the episode on the website.
As always, we're taking calls at 760 480 8477. Leave a message and we may use your call in an upcoming broadcast.
Listen to all the episodes here.
Go to iTunes and write a short review. This will let others know about the program.
Go to the Office Hours page and click the "like" button.
Follow Westminster Seminary California on Twitter and Facebook
Thanks for listening!