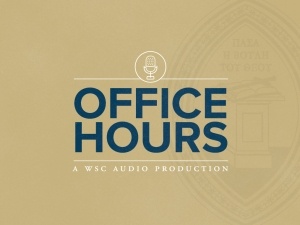 When we recorded the first episode of Office Hours in the Summer of 2009, podcasting was rather new. We had to manage carefully the size of the podcasts because most of our listeners were still using dial-up connections to hear the podcasts. Indeed, we used the word broadcast instead of podcast because we thought people might not know what a podcast was. After all, smart phones were only 2 years old when we began. In 2009 we did not have a studio. We met in the faculty language with two mics and a computer. Eventually we added a mixer and in season 2 we had a studio with actual recording equipment. The rest, as they say, is history. A lot has changed since 2009. Some of the equipment has become more sophisticated and easier to use. We do not have to explain the word podcast any more. Indeed, to those who grew up with the internet we might have to start explaining the word broadcast. This year (2020–21) begins our 12th season. During the 216 (or so) episodes we have done biblical commentaries on books of the Bible (Hebrews), series on sanctification, wisdom, the Holy Spirit, the Reformation, and the Canons of Dort. We have also talked with visiting scholars in variety of disciplines including biblical studies, biblical theology, systematic theology, historical theology, practical theology, church history, law, and ethics.
John Wenham once wrote something to the effect that to to single out people by name is invidious, but just to indicate why you should listen to Office Hours among our guests, in addition to the faculty, have been Sinlair Ferguson, Richard Muller, Darryl Hart, Carl Trueman, Kelly Kapic, Scott Manetsch, Stephen Nichols, Sen. Ben Sasse, Chad van Dixhoorn, Simon Gathercole, Herman Selderhuis, Ligon Duncan, and John Witte Jr., just to name a few.
Subscribe to Office Hours in Apple Podcasts.
Subscribe to Office Hours in an podcast app.