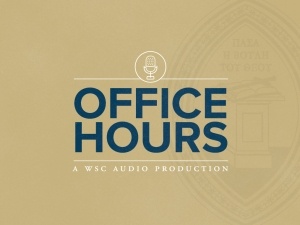 Carl Trueman has been a university professor, seminary professor, a visiting professor at Princeton University, and a bi-vocational pastor. He is now Professor of Biblical and Religious Studies at Grove City College. He is also an old friend. We met in the early 1990s, when I was a post-graduate student in the UK and he was a young professor at the University of Nottingham. He very generously invited me to help with a collection of essays on Protestant Scholasticism, on which I've been making a living ever since. Carl, however, has gone on to a distinguished career writing in print and online. He's the author of a number of books, one of the most recent is Grace Alone: Salvation As A Gift of God. Among his other works is The Creedal Imperative on the value of creeds and confessions and a couple of wonderful books on John Owen. In short, read Trueman. He was on campus recently to deliver the annual den Dulk Lectures on pastoral ministry. His theme: "And Miles to Go Before I Sleep,"
Here is the episode.
Here are all the Office Hours episodes.
Subscribe to Office Hours in iTunes or in some other podcast app.
If you benefit from Office Hours, please take a moment to leave a positive review on iTunes so that others will find it and benefit too.
Thanks for listening!