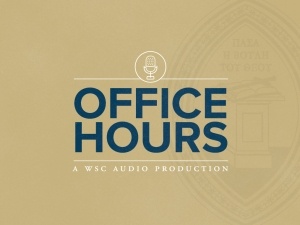 The primary mission of Westminster Seminary California is to prepare men for pastoral ministry. This is has been our primary mission since 1980. We have graduated more than eleven hundred students. About 70% of our graduates go on to pastoral ministry. Indeed, some of our earliest graduates have been preaching God's Word, visiting the sick, and meeting with elders for more than 30 years. Bill Godfrey is one of our graduates. He is also a graduate of Trinity Christian College, McGeorge School of Law, University of the Pacific, and Westminster Seminary California. He is a member of the state bar in California and pastor of Grace URC in Torrance. He joined us recently to talk about his decision to become a pastor and what he has learned since graduation.
Here is the episode.
Here are all the Office Hours episodes.
Subscribe to Office Hours in iTunes or in some other podcast app.
If you benefit from Office Hours, please take a moment to leave a positive review on iTunes so that others will find it and benefit too.
Thanks for listening!