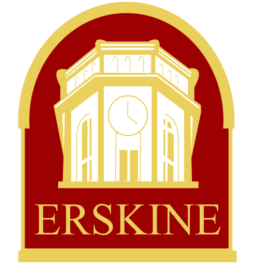 Erskine College is in the news this morning for articulating the biblical and historic Christian position on human sexuality: "We believe the Bible teaches that monogamous marriage between a man and a woman is God's intended design for humanity and that sexual intimacy has its proper place only within the context of marriage." Remarkably, there is a media "furor" (when is the media not in a furor anymore?) over it. The Reuters headline declares that Erskine is being "scrutinized" for its "biblical (in scare quotes) stance on homosexuality. Implicitly being scrutinized is a bad thing because it could lead to having the school's accreditation threatened in the way Gordon College is being threatened by its regional accreditation agency. If school's lose their regional accreditation their students are no longer eligible for Title IV federally-subsidized student loans. Loss of regional accreditation makes it more difficult for students to apply to graduate school. Loss of regional accreditation may lead to decreased enrollment.
No homosexual students have been asked to leave Erskine College but it has expressed its views and required members of the college to abide by them. How dare a historically Reformed and Presbyterian College re-assert what Scripture says and what Christians have believed for 2,000 years? After all, the culture has shifted dramatically in the last 40 years and every institution and person must now come along obediently.
Scripture Is Clear
There should be little doubt about what Scripture says about homosexuality. There was little question about it until the culture began to shift. When I read the literature in the mid 1980s it was clear that there were two basic approaches: those who were willing to acknowledge what Scripture says and those who sought to find a way to make Scripture say something that was more culturally acceptable. In the intervening years not much has changed. The pace of cultural acceptance of homosexuality increased with the advent of the internet and the urbanization/suburbanization of North America. As people become more disconnected from nature and from the very idea that there is such thing as nature, as social pressure to conform to the majority increases, it will only become more difficult to articulate the biblical view.
As Robert Gagnon, among others, has been demonstrating for years, the case for homosexuality from Scripture is beyond weak. The truth is that 1 Corinthians 6:9 and 1 Timothy 1:10 condemn the "αρσενοκοιται" (arsenokoitai). The standard definition (Bauer, Arnt, Gingrich, Danker) is "a male who practices homosexuality, pederast, sodomite." This is the way the word was understood in early Christian, post-canonical usage though it occurs in the same sense in the Sibylline Oracles (6th cent BC) ii.73. See Moulton and Milligan s.v. The biblical teaching on homosexuality is just as clear as its teaching on murder or theft or idolatry. For the moment, murder is still frowned upon so no one is coming under the dreaded "scrutiny" for opposing it. Erskine College is coming under, dun, dun, dun!, scrutiny. In 1 Corinthians 6:9 God says:
Or do you not know that the unjust (αδικοι) will not inherit the kingdom of God? Neither will you who deceive (πλανασθε) nor the sexually immoral (πορνοι) nor idolaters (ειδωλολατραι), nor adulterers (μοιχοι), nor the effeminate (μαλακοι), nor homosexuals (αρσενοκοιται).
Human beings, made in the image of God, who are impenitently unjust, who impenitently deceive, who are impenitently sexually immoral, effeminate, adulterers, or homosexual will not inherit the kingdom of God. God justifies sinners in Christ (Rom 4:5). Justified sinners will continue to struggle with sin but they acknowledge sin for what it is and they do not demand that their sin be accepted by society as normal. Deceiving is not normal and shouldn't be socially acceptable. In fact it isn't. Try to deceive a bank into giving you money that isn't yours and see what happens. When you're arrested and prosecuted there will be no "scrutiny" or outrage because people don't want you stealing their money. The newspapers rejoice when a crooked business person or politician is exposed. It gives them something about which to write and it gives pundits an opportunity to posture as moralists. Since the sexual revolution of the 1960s and 70s, however, our culture has not wanted to hear much about the sin of sexual immorality. The majority decided that sex is a purely private thing—never mind the reality that tax dollars, public funds are given to Planned Parenthood in order to murder the unwanted children produced by ostensibly private sex. Adultery, of course, was normalized during the sexual revolution but still one has the sense that had Erskine College issued a statement rejecting adultery, no one would have cared. No, the mass media, opinion shapers, and the culture gatekeepers have decided that everyone, and they mean everyone is going to conform to the new social dictate: homosexuality is okay and don't you dare say otherwise.
1 Timothy 1:9–10 is just as clear:
…lawless and disobedient, for the ungodly and sinners, for the unholy and profane, for those who strike their fathers and mothers, for murderers, the sexually immoral, men who practice homosexuality, enslavers, liars, perjurers, and whatever else is contrary to sound doctrine…. (ESV)
Homosexuality is one several sins Paul lists as examples of those things that are "lawless" (ἀνόμοις) and he basically marches quickly through the Ten Commandments. Each one of these offenses can be tied to a violation of the Decalogue. To be "lawless" is to be disobedient to God's moral law. Sin is transgression of or want of conformity to the moral law (WSC 14; 1 John 3:4). God's name is holy and it is not to be profaned (3rd commandment). Striking one's parents is a violation of the 5th commandment. Murder is a violation of the 6th commandment. Sexual immorality, including homosexuality, is a violation of the 7th commandment. Enslaving, probably man stealing, is a violation of the 8th commandment. Lying and perjury are violations of the 9th commandment. If regional accrediting agencies are going to pressure Christian Colleges to conform to changing social norms on homosexuality (and homosexual marriage) what about lying and plagiarism? Will Christian Colleges face sanctions for enforcing policies against plagiarism? If not, why not? Why isn't enforcement of policies against plagiarism arbitrary? After all, who is to say whose material it really was originally? Nothing is really original is it? You see how this line of reasoning goes. It is true that homosexuality is just one of the several gross sins listed here but it is one of them. Christians are not entitled to pick and choose from the moral law according to what a given culture demands.
Cultural Pressure
The surrounding culture has shifted, the remaining effects of Christianity on the culture are ebbing and most people don't want to be at odds with the people in the office, their family, or the social circle. This is why the mainline churches such as the Presbyterian Church USA have abandoned much of historic Christian teaching. They recognized in the early 20th century that the culture was shifting and they shifted to keep up. Ironically, in so doing, they signed their death warrant and now they are losing congregations and members at an unsustainable rate. If the church is only saying that Oprah is saying, why go to church when Oprah says it so much better?
Online peer pressure and shaming has sped up the process. Where once one might have had a face-to-face conversation with a friend or a neighbor wherein one might have said, "Well, I still think that men having sex with other men (sodomy) is not natural and shouldn't be approved or encouraged" today that sort of comment on Facebook or Twitter may bring a cascade of responses which can be intimidating, especially to those who are not used to public criticism or shaming.
Surely no one was surprised that Rob Bell recently announced that he does not care what Holy Scripture says about homosexuality? After all, he has the approval of Oprah. What more does a fellow need? Is anyone really surprised? Was his theology ever tied to Scripture? Further, the high-profile announcement by this emerging pope that "the church" is "moments away" from changing its view on homosexuality makes it sound as if we are all just neo-Pentecostalists, Romanists, or Mormons, that biblical doctrine shifts with the cultural winds. When the Mormons realized that they could no longer get away with denying the humanity of Africans, their "prophet" received a "revelation." Before that they did the same polygamy. Of course both the denial of the humanity of Africans and their affirmation of polygamy were gross errors but this is a religion founded by a con man. Rome gets competing "revelations" from council to council and papacy to papacy. Vatican I says Modernity is heresy. Vatican II thinks Modernity is wonderful. Vatican II is in, it's out, and now apparently it's back in favor. The consequence of all this monkey business is that it creates the impression among the pagans (and even some Christians) that Christian opposition to homosexuality is not grounded in any real principle, that it is purely arbitrary, and that may be changed with sufficient social pressure. Hence the demand from the broader culture to conform to the status quo. They see reluctant Christian institutions such as Erskine as simply behind the times or stubborn. They assume that opposition to homosexuality may be changed through shaming.
Institutions such as Erskine College and Gordon College are merely the vanguard. There will be others. The relentless pressure to conform will not ease. Some, perhaps most, Christians will likely capitulate. What then? Once, like the 2nd-century Gnostics and Marcionites, we've excised the offending portions of Scripture to suit our fancy, to get along with the new cultural majority, how long before they come after the rest of the list?
The Treatise to Diognetus (ch. 5) from the mid-2nd century gives some instruction to those who would continue to adhere to the Christian faith in the face of opposition:
For Christians are not distinguished from the rest of humanity by country, language, or custom. For nowhere do they live in cities of their own, nor do they speak some unusual dialect, nor do they practice an eccentric way of life…For while they live in both Greek and barbarian cities, as each one's lot was cast, and follow the local customs in dress and food and other aspects of life, at the same time they demonstrate the remarkable and admittedly unusual character of their own citizenship. The live in their own countries but only as nonresidents, they participate in everything as citizens, and endure everything as foreigners. Every foreign country is their fatherland, and every fatherland is foreign. They marry like everyone else, and have children, but they do not expose their offspring. They share their food but not their wives. They are in the flesh, but they do not live according to the flesh. They live on earth but their citizenship is in heaven. They obey the established laws; indeed in their private lives they transcend the laws. They love everyone, and by everyone they are persecuted.
We will conform where we may. We will share everything except our wives. There are divinely imposed limits we cannot transgress. The pagan Romans could not understand why we would not say the words, "Caesar is Lord." They could not understand why we wouldn't just go through the motions. They did not care what we thought. They only cared about what we said and did. The neo-Pagans don't care what we think about homosexuality or homosexual marriage but they insist that we cater and perform weddings. The Romans thought we were just being stubborn, that we were "haters of humanity." Now, as then, we must fear God more than man and expect opposition. Get used to it. It's only beginning.