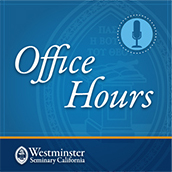 In season 5 of Office Hours we're focusing on the biblical, Christian, confessional doctrine and practice of sanctification, the process of being made holy, of being brought into gradual conformity to Christ by the grace of the Spirit through dying to sin and being made alive to Christ. We're calling the series, "New Life In the Shadow of Death." The series title is meant to capture the paradox of our new life. We have been given new life in Christ, by the Holy Spirit, "the Lord and giver of life" (Nicene Creed) but that new life, as we are being made alive with Christ (vivification), comes in the midst of death. Believers are gradually dying to sin (mortification) and that dying flows out of our union with Christ in his death (Col 2:11–12; Rom 6).
David VanDrunen, Robert B. Strimple Professor of Systematic Theology and Christian Ethics joins us to get us started by helping us to get oriented to the biblical, Christian, and confessional teaching on sanctification.
Here is the episode.
Here are all the episodes.
Subscribe to Office Hours in iTunes.
We're taking calls at 760 480 8477. Leave a message and we may use your call in an upcoming broadcast.
If you're not subscribed to Office Hours in iTunes you can subscribe in other ways. The info is all on the Office Hours page.
Go to iTunes and write a short review. This will let others know about the program.
Go to the Office Hours page and click the "like" button.
Follow Westminster Seminary California on Twitter and Facebook
Thanks for listening!