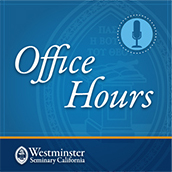 Charles Telfer, Westminster's soft-spoken language prof, is widely traveled both geographically and theologically. He began his spiritual journey as in the American mainline. From there, like a lot of other people, he moved on to Buddhism and thence to neo-Pentecostalism and finally arriving at confessional Reformed Christianity.  It seems that parallel to his intellectual travels Charles has been almost everywhere on the globe. In the episode Charles and I discuss his journeys and why he settled down with the Reformed confession and at Westminster Seminary California, and why it's so important for seminary students and future ministers to learn to read God's Word in the original languages.
Here is the episode.
Here are all the episodes.
Subscribe to Office Hours in iTunes.
We're taking calls at 760 480 8477. Leave a message and we may use your call in an upcoming broadcast.
If you're not subscribed to Office Hours in iTunes you can subscribe in other ways. The info is all on the Office Hours page.
Go to iTunes and write a short review. This will let others know about the program.
Go to the Office Hours page and click the "like" button.
Follow Westminster Seminary California on Twitter and Facebook
Thanks for listening!