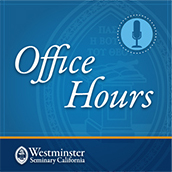 Steve Baugh helps us wrap up our study of the book of Hebrews this season. We're studying Hebrews 13 in this episode. He's an expert in the 1st century background of the New Testament and Greek and he brings those skills to bear to help us understand this chapter. The major question of the chapter is how we ought to order our lives, how to address the challenge of living the Christian life in the midst of persecution, in light of Hebrews' teaching on the continuity of the covenant of grace, the superiority of the new covenant over Moses and the old covenant, Christ as our mediator, and our entrance into heaven with Christ.
Here's the latest episode of Office Hours.
Stay tuned. We have some terrific episodes planned for the summer including John Fesko on Galatians, David Strain on ministry, Kelly Kapic on John Owen, and Greg Reynolds on media ecology, among other topics and guests.
Subscribe to Office Hours in iTunes or listen to the episode on the website.
We're taking calls at 760 480 8477. Leave a message and we may use your call in an upcoming broadcast.
If you're not subscribed to Office Hours in iTunes you can subscribe in other ways. The info is all on the Office Hours page.
Hear the most recent episodes here.
Listen to all the episodes here.
Go to iTunes and write a short review. This will let others know about the program.
Go to the Office Hours page and click the "like" button.
Follow Westminster Seminary California on Twitter and Facebook
Thanks for listening!