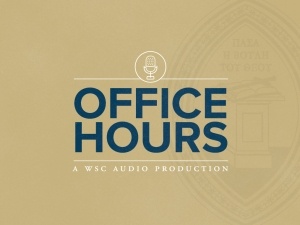 2018–19 is the 400th anniversary of the Synod of Dort. We have been observing this anniversary this year, which is the 10th season of Office Hours. Many people know about the so-called Five Points of Calvinism but fewer people know that those five points were formulated by a formal, ecclesiastical gathering of ministers, theologians, and civil officials. Some of those ministers and theologians were from the Netherlands but others came from the British Isles, some from the Palatinate, Hesse, Nassau, Bremen, Emden in what we know as Germany. Others came from Geneva, Zürich, Basel, Bern and Schaffhausen from the Swiss Confederation. The delegates from France would have attended had the French crown permitted.
Herman Selderhuis is a remarkably busy man and he was on campus last month to talk with us about the Synod of Dort and its response to the Remonstrants, the Canons of Dort. Dr. Selderhuis is a minister in the Christlijke Gereformeerde Kerken in the Nederlands. He graduated from the Theological University of Apeldoorn, in the Netherlands, and served congregations as a pastor for 10 years before becoming Professor of Church History and Church Polity in his alma mater. He did his doctoral research on Martin Bucer's teaching on marriage and divorce. He is also director of Refo500 and the International Calvin Congress.
Dr. Selderhuis is the author of a marvelous book on Calvin's Theology of the Psalms, he's editor of The Calvin Handbook, and of the two-volume Reformation Commentary on the Psalms, and the Handbook of Dutch Church History among other things.
Here is the episode.
Here are all the Office Hours episodes.
Subscribe to Office Hours in iTunes or in some other podcast app.
If you benefit from Office Hours, please take a moment to leave a positive review on iTunes so that others will find it and benefit too.
Thanks for listening!