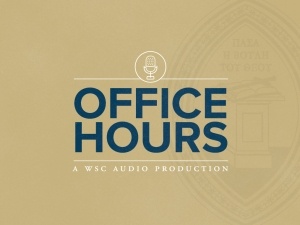 The Scriptures have a great deal to say about wisdom (see, e.g., all of Proverbs, Ecclesiastes, Job), about what it is, about its importance, how to get it, and what happens to those who do not (Pss 14, 53 ). Judging, however, from the popular Christian press (both online and in print) one might not know how much  Scripture values wisdom. During the last academic year, 2016-17, however, the faculty gave a series of chapel messages on what Scripture has to say about wisdom and with the help of Barb Van Solkema and several others, Dennis Johnson has collected and edited those messages now published as a free e-book, The Treasury of God's Wisdom: Meditations from the Faculty of Westminster Seminary California. This volume features brief devotional messages from Scripture from Mike Horton, Bob Godfrey, Joel E. Kim, S. M. Baugh, J. V. Fesko, Joshua J. Van ee, Charles K. Telfer, Bryan D. Estelle, Zach Keele, and yours truly.
Here is the episode.
Here are all the Office Hours episodes.
Subscribe to Office Hours in iTunes or in some other podcast app.
If you benefit from Office Hours, please take a moment to leave a positive review on iTunes so that others will find it and benefit too.
Thanks for listening!