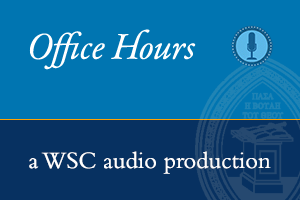 When Reformed and Presbyterian Christians think of Paul we might think first of Paul as the New Testament theologian of grace, of salvation, of unconditional election but he might just easily be called the theologian of the Holy Spirit. Where we might focus on Romans 9, in the chapter just before, Romans 8, Paul mentions the person and work of the Spirit no fewer than 20 times. In Romans 8:1–5 about "the law of the Spirit of life" and about believers who "walk…according to the Spirit" and who "set their minds of the things of the Spirit." Just as soon as he proclaims the gospel he begins talking to us about our new life in Christ, in the Spirit. Joel Kim, Associate Professor of NT, who teaches courses on the Pauline epistles, joins us for this episode to help us understand Paul's teaching about the person and work of the Holy Spirit.
Here is the episode.
Here are the episodes for Season 7, The Holy Spirit: Lord and Giver of Life.
Here are all the Office Hours episodes.
Subscribe to Office Hours in iTunes or in some other podcast app.
Thanks for listening!