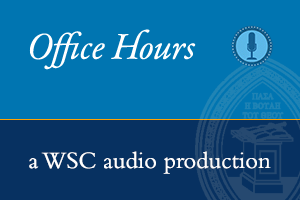 Nineteenth-Century American religion was wild and wooly. It began with an outbreak of Pentecostalism and concluded with the death of Dwight L. Moody and the beginning of the end of Old Princeton. In between saw the rise of Mormonism, the Second Great Awakening, the Millerite Movement, and Seventh-Day Adventism. Dr Marcus McArthur is a graduate of Westminster Seminary California (MA, Historical Theology) where he began researching the Millerite Movement. He did his PhD on American religious history at St Louis University. He teaches the history of American Presbyterianism at WSC.
There is a great deal to be learned by seminary students about American history and especially its religious history that is not widely known or understood. Much of what many American evangelicals take for granted as ordinary Christian doctrine and practice is, in fact, the product not so much of Scripture and ancient Christianity as it is nineteenth-century developments.
Here are all the Office Hours episodes.
Subscribe to Office Hours in iTunes or in some other podcast app.
Thanks for listening!