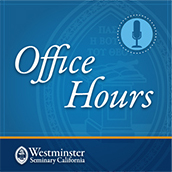 Last season Office Hours went to the desert. The theme for the season was "Desert Island Books." I sat down with each member of the faculty to talk about those five books each faculty would want with himself were he stranded on a deserted island.
It's an interesting question and harder to answer than one might think. The series began with Dr Steve Baugh, Professor of New Testament. Here is that episode. On the Office Hours website We listed the books discussed in each of the Desert Island episodes. Here's David VanDrunen's episode. Here's Mike Horton's episode and Bob Godfrey's episode.
We had a lot of fun doing these and I think you will enjoy them too. You might be surprised by some of the choices. I was. The fellows did not tell me ahead of time which volumes they had chosen nor did they coordinate among themselves. Some of them, well most of them, found ways to smuggle more than five books onto our mythical island. Bob Godfrey, of course, found a nice hotel on the island. Josh van Ee had the (by far) most practical idea for his desert island book. Some of the fellows are reading things that you might not expect from a seminary prof. Don't get the wrong idea. They weren't salacious but they were interesting and unexpected. In one episode we talked about the future of books as a medium.
If you haven't heard these episodes I hope you'll take a listen. I think you'll be glad that you did. I learned quite a bit and I think you might too.